Borobudur Temple is the largest Buddhist temple in the world, so don't be surprised when this temple is never empty of visitors every day. Since this pandemic era, it has not stopped tourists from coming to the temple to see its beauty and splendour. In addition, around the Borobudur Temple, many tourist attractions are spread over several points. When the tourists come to the Borobudur Temple, they can visit several tourist attractions at once. However, to surround the Borobudur Temple, it is not necessarily possible to do it in one day because of the vast area of ​​the Borobudur Temple. Most tourists will feel tired when walking around Borobudur Temple, especially if you climb the temple to the top. The hundreds of stairs that are there will make it difficult for you.
After walking around the Borobudur Temple area, you will need delicious food to take a rest. Fortunately, there are many places to eat around Borobudur Temple. Especially if you are travelling with your family, you can choose various restaurants and cuisine around Borobudur Temple. After a tiring day of seeing the beauty of Borobudur Temple, it's a good idea to unwind at the culinary closest to the Borobudur temple, which serves a variety of delicious food. Indeed, travelling is not complete if you do not have a culinary tour at the same time. There are culinary recommendations for the nearest Borobudur temple that you can visit:
Kedai Bukit Rhema
First place with tons of beautiful view and delicious food served from the restaurant. Kedai Bukit Rhema is the most reccomended restaurant near borobudur that you ought to try. At that place you can enjoy a great scenery from menoreh (the one of the biggest hill in central java). It is the place for enjoying food while leave the stress with the green trees along the delicious taste of pisang goreng (fried banana) with the signature taste of local coffee Magelang.
It's located in Bukit Rhema, the one of tourism object as well known as Chicken Church in Borobudur which only 2 kilometers around from the Temple. There are so many dish offers there from main dish or snack. The price of every food is literally cheap and its worth with what you get there.
Kampung Ullam (Ulam Village)
This family restaurant place, called Kampung Ulam, is a must-visit when visiting Borobudur Temple. This family restaurant is unique, aesthetic, and filled with a traditional atmosphere that will surely make you feel comfortable inside. But don't be mistaken, because the conventional theme does not mean the place to eat looks old-fashioned, you will be amazed by the beauty of the interior and exterior, which are arranged very nicely. Many young people chat and spend time eating delicious food there. Once you arrive at Kampung Ulam, you will be greeted with the atmosphere of a beautiful joglo house with a garden decorated with fish ponds and outdoor dining tables. In this Kampung Ulam, you can choose to eat indoors or outdoors.
The food menu provided is Javanese food, and the way it is served is a buffet, so you can take the food you want yourself. The rice served at Kampung Ulam is wrapped in banana leaves, and the side dishes are served in nampah. Usually, between 8 a.m. to 4 p.m., a heavy food menu will be done, mainly made from processed fish, then from 4 p.m. to 11 p.m., the dish is a typical angkringan menu. As for the price, it is pretty affordable, starting from Rp. 3000 to Rp. 100,000. Surely you will get much delicious food when you spend time at these places to eat. Therefore, Kampung Ulam is one of the recommended culinary places near the Borobudur temple. In Kampung Ulam, you can also enjoy the Menoreh Hills and the Sumbing Mountains.
6 Langit
6 Langit By Plataran Borobudur is the next family restaurant you can visit after leaving Borobudur Temple. This place is fascinating with views of 6 mountains that you can see from the top. 6 mountains you can see are Merbabu, Merapi, Andong, Telomoyo, Prau, and Sumbing. Because of the view of the mountains, you can get a breathtaking panorama, especially at sunrise and sunset. You can choose to sit indoors or outdoors. 6 Langit is made with the theme of a joglo house which is very spacious so that in it you cannot hold a wedding celebration. However, because there is a pandemic, the number of visitors allowed to come is limited; actually, 6 Langit can accommodate up to 150 people. During the pandemic, it is limited to only around 50 people.
To spot food outside, you can sit on the edge of the restaurant, which directly faces the view of the six mountains. The beautiful scenery and the delicious food served will increase your appetite. This restaurant, one of the closest culinary places to the Borobudur temple, is trendy and often visited by artists or public figures. You can choose between Javanese, Asian, or Western food for the available food.
Read more: Incredible Waisak Day at Borobudur Temple
De'Menake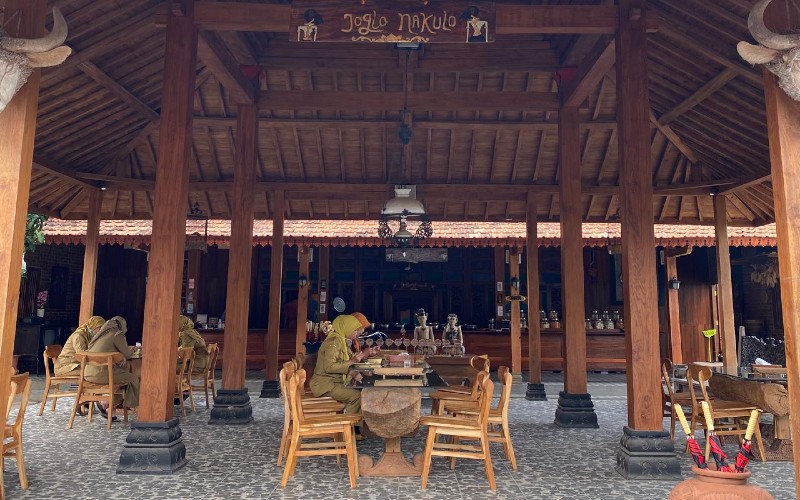 The third place to eateries near Borobudur Temple that you can visit is De'Menake. This family restaurant is also famous because of the traditional concept that uses a Joglo house building as the restaurant's main building. De'Menake is located in Komplek Semesta, Sangen Area, Candirejo Village in Borobudur District, Magelang Regency, Central Java. Serving at the culinary place closest to the Borobudur temple is a buffet. Food places are also made of traditional ingredients and areas for cooking. For example, some foods served cooked using luweng, coking places with wood fuel. Because it is cooked using wood, the taste of the food also tastes more delicious and fragrant.
There are many delicious foods and side dishes available, for the snacks provided are also various and the snacks served can be enjoyed for free. So fun.
Café Cactus
For those of you who want to relax and sit in an aesthetic café near Borobudur Temple, you can choose Café Cactus, which is only 5 minutes away from the main entrance of Borobudur Temple. After you are tired of walking around Borobudur Temple, you can relax at the Café without having to travel too far. The cafe is beautiful with a modern concept, and white walls and cactus plant decorations in every corner of the room make this cafe a very comfortable place. It is located on Jl. Badrawati Ngaran Lor No.17 and is a very popular café. The building used as a cafe consists of 2 floors. On the lower floor is a place for cooking, cashiers, live music, prayer rooms, visitor seats, and a place to sell cactus where you can buy souvenirs from the café.
You will enjoy snacks to heavy meals while at the culinary near Borobudur temple. This cafe is a favourite hangout for tourists and residents around Borobudur Temple. This cafe is loved by young people because there are many Instagram-able spots in the café. Don't forget to visit Café Cactus to taste delicious food when you visit Borobudur Temple.