If you go to Magelang to visit Borobudur, of course, it feels less steady. For those, if you want to interested in seeing many other exciting places let's discuss five recommended tourist attractions that should not be missed. Here is the discussion!
Umbul Temple Hot Water
Magelang tourist destinations near Borobudur Temple and give a unique feel are Umbul Temple. This place is a small bath that has hot water from natural sources. Because the pool is this hot, many visitors want to soak while enjoying the view of the old temple here.
This bathing pool has a unique story. Initially, this bath was in a natural pool with abundant springs. But after the earthquake, the water source turned into hot water. Finally, a particular temple was built at this location. Only nobles were allowed to enter the temple area after it was made.
Read More: Incredible Waisak Day at Borobudur Temple
When Borobudur was buried in the era of the Islamic Kingdom, this bathing area was also erased. Fortunately, after the war, this temple was seen as a historical place and was renovated to be good. The pool and the area around the temple are beautified. Until now, it still looks good and does not have many defects.
For those of you who want to visit, this location is open from 06.00 to 17.30 WIB. The area is in Kartoharjo Village, Grabag District, Magelang Regency, Central Java Province. You pay around 5 thousand Rupiah per person to enjoy this place. If in the rainy season, usually the baths are often closed, so don't be surprised if the area is not open when you come. It is safer to go during the dry season than rainy.
Elo River Rafting
The Elo River rafting area is another tourist destination near Borobudur that is no less exciting. The local government deliberately created this place by modifying the flow of the Elo River. In the spot rafting, the arrangement of natural stones is made in such a way as to provide a challenge for the visitor but still be safe. With river water that is always high and torrential, the excitement of rafting will feel good.
This rafting area has a rafting length of about 12 kilometres. This rafting will be divided into three according to the level of difficulty. So, beginners who want to try rafting can learn the easy route first. You even get an instructor as a companion.
For those looking for a challenge, make sure to come during the rainy season. In this season, the water discharge of the Elo River is more extensive and heavier. The difficulty level of the route can be many times more challenging. Sometimes, if the water flow is too high, the most challenging route should not be used because accidents are serious. But for professional rafters who want to try, special permissions can be made for this.
If you are interested in coming here, first prepare a pocket of  750 thousand Rupiah. You can rent or bring your equipment. For beginners, there is a particular class to learn rafting here. The exact location of this place on Jalan Balaputradewa No. 1, Wanurejo Borobudur, Magelang, Central Java.
Ketep Pass
The following choice of tourist destination near Borobudur Temple is Ketep Pass. This place offers beautiful views and a location with an inviting hiking route. Both children and older people can enjoy this location if you want an adventure to enjoy the beauty of nature.
Ketep Pass located in Sawangan Hill, Ketep Village, Sawangan District, Magelang Regency, Central Java. Here, you can enjoy the scenery and some additional facilities developed by the local government. Here are some of these facilities:
Ketep Volcano Theater
Ketep Museum
Merapi and Merbabu Monitoring Area
To use this facility, you have to pay more. Generally, the additional cost is only around 10 thousand Rupiah. For those who want to go around the Ketep Pass area, you only need to buy an entrance ticket with the price 10.5 thousand Rupiah per person for weekday and 12.5 thousand rupiah for weekend. Travelling in this area without being limited by time can be a good vacation experience.
The beautiful surrounding scenery, a cool place, and many amusement facilities make this adventure here not to be missed. Make sure that after you are satisfied at Borobudur, you visit Ketep Pass.
Mangli Sky View
Nature tourism that can be enjoyed is Mangli Sky View. This location is becoming famous for photography who want to record the beauty of  Mount Sumbing at sunrise and sunset. The centre of attraction of this place is the viewing platform on high ground. Using this platform, you will see a stretch of the beautiful scenery around this holiday area.
Apart from being a place for photos and seeing beautiful views, you can try staying here. Cottage facilities, huts, and campsites are available here. So those who want to feel adventurous and get closer to nature!
Many rentals are available at Mangli Sky View for those who don't want to bother. This natural scenic spot allows you to borrow tents, sleeping bags, mattresses, nesting, stoves, and gas cylinders. You can use this service for some fun outdoor grilling and cooking!
Bukit Rhema and Gereja Ayam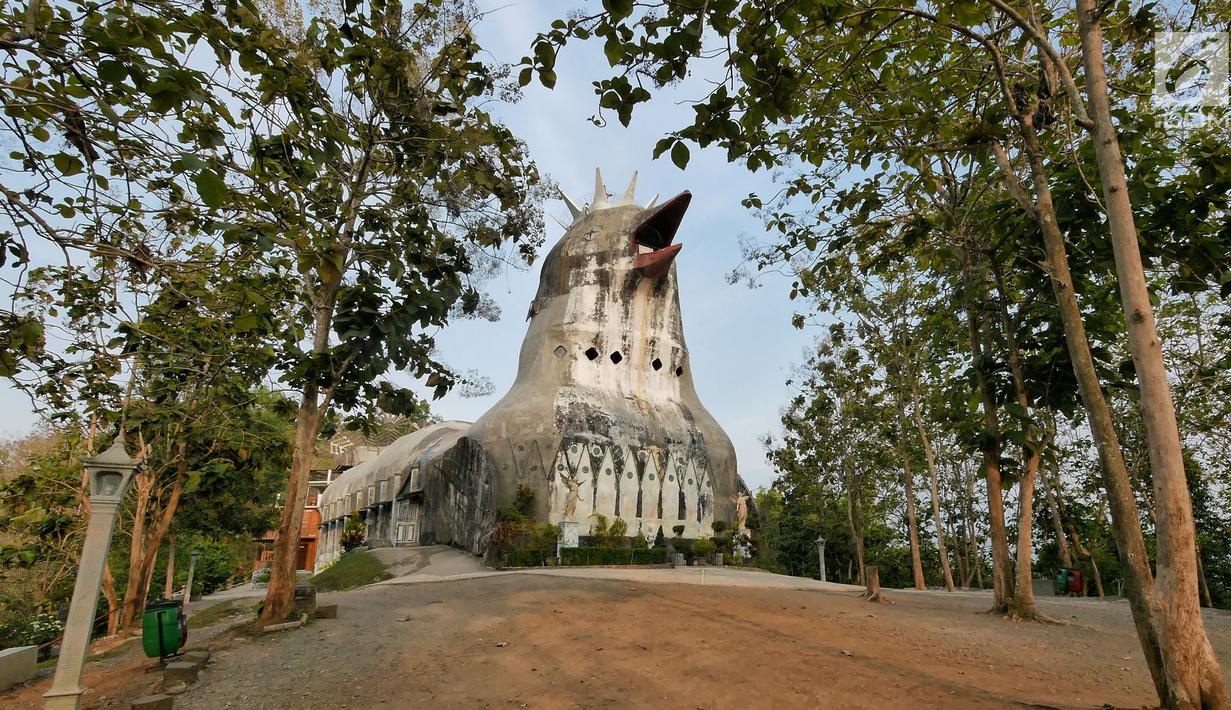 This is one location that is still rarely discussed as a vacation spot. Although it has been near Borobudur Temple for a long time, its use as a vacation spot is still relatively new. So you can make sure this place is generally always quiet.
Bukit Rhema located in Karangrejo Gombong, Kurahan, Kembanglimus, Borobudur District, Magelang, Central Java. Distance from Borobudur Temple is only about 15 minutes by car. This tour near Borobudur is a must-visit if you want to see the perspective of the temple view from a high place.
Here is the Gereja Ayam. This place is a uniquely shaped church building. This is intentional. Initially, the building wanted to be shaped like a white dove with a crown. But when finished, the shape is closer to chicken. You can enter and go up to the head area and see a more lovely view from here.
Read More: Family Restaurant Around Borobudur While Watching Sunrise 
If you visit at sunrise, you can see the morning view where the fog still covers the Borobudur area. This view makes Borobudur Temple like being shrouded in clouds. For photographers and lovers of unique scenery, be sure to try to come here early in the morning.
You only need to pay around 10 thousand Rupiah to enter this sightseeing area. If you come with a vehicle, be ready to pay for parking 2 thousand. Make sure to come here during the dry season. If it's the rainy season, this area is often wet, and the road area is damp. It's more comfortable if you don't have to deal with rain when you see the scenery.
What do you think about the choice of vacation spots above? Each place has its uniqueness. Starting from a place for adventure, enjoying nature to historic sites can be the main attraction. If you want to be more confident after visiting Borobudur Temple, make sure to try the tourist attractions above!